DIY Essential Oil Car Air Freshener
DIY Essential Oil Car Air Freshener
As you embark on your journey to making DIY gifts with essential oils, don't forget about the practical gifts. One excellent gift that every driver on your list will love is a car air freshener. It allows them to enjoy aromatic scents whenever they are driving, and have something they know is all-natural and a smell that will last a long time.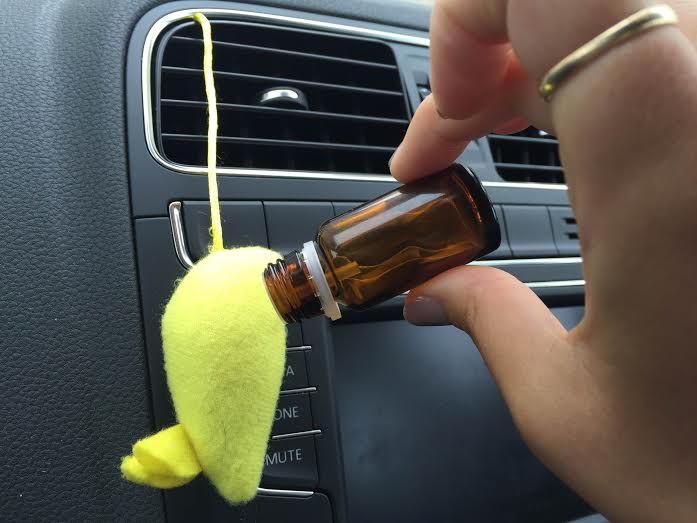 Cotton Balls in a Jar
This is definitely one of the easiest ways to put together a car air freshener. It is inexpensive and uses supplies you probably already have in your house. All you need to do is get a small jar with a lid, whether it is a mason jar or an old pickle jar you have cleaned out. Fill it with cotton balls, and drop in the essential oils you want to use. The oils will soak the cotton balls, and allow the scent to transform the car. Depending on how strong they want it, you can either leave the lid off, or add the lid, but drill some
holes in it for ventilation.
Use Mini Cotton Balls on a Clothespin
Here is another easy method you can use for your car air freshener that also uses cotton balls, but this time you are going to use the mini cotton balls you can find at drug stores or craft stores. What you want to do is get about 2-4 mini cotton balls and soak them in a jar with distilled water and some essential oils. Once they have soaked, let them dry, then glue to a clothespin. This can then be used to attach to the air vent in the car, allowing it to smell like the essential oils every time the air conditioner is turned on.
Make a Wooden Ornament
The last way you can make your own car air freshener is by making a scented wooden ornament. You want to find a thinner wooden ornament, often found at local craft stores. This can be any shape, but it can be more festive if you find one shaped like something that has significance for the driver. You don't need to decorate it or paint it if you don't want to. All you have to do is spray it with your essential oil and diffused water spray bottle, let it dry, then drill a hole in the top. You can then use it like a regular air freshener where you hang it from the rear-view mirror in your car.