Supernatural
Supernatural
Washington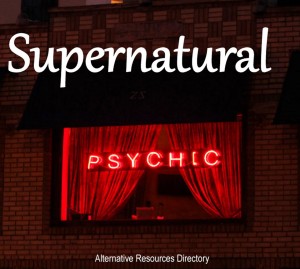 Animal Communicating Karen Anderson
PO BOX 256, Elk WA 99009
Phone number (510) 854-6003
Karen Anderson is a professional Animal Communicator, Psychic and Medium from the Eastern Washington area. Combining her two areas of expertise, the psychic realm and law enforcement, Karen also works with law enforcement agencies on missing persons, cold cases and other unsolved crimes.
Annette Betcher Animal Communicator
2018 SE Juniper Ct, Port Orchard WA 98366
Phone: (360) 871-4774
Annette is an internationally acclaimed Animal Communicator and Intuitive Consulatant. Animals and humans have benefited from her ability for over thirty years. Annette, welcomes all animals, including missing animals and those in spirit. As an adjunct to Annette's consultations she is now including human babies and young children to her communication repertoire.
Beam of Loving Guidance
43005 NE Grist Mill Rd Woodland , WA , 98674
Phone number (360) 609-0493
Tamara works from a place of the heart and can give you insight and tools to help guide you towards your goals. Tamara provides therapeutic services to both people and animals, and is here to help whether you have experienced troubled times, or are looking to improve your well being. Tamara can connect you to your love one and animals that have passed over bringing understanding and validation into your life.
Charles Lightwalker
3814 E 9th Ave, Spokane WA 99202
Phone number 509-389-7290
Charles Lightwalker is a Medical Intuitive, Reiki Master, Ordained minister, Certified religious counselor and Certified Spiritual healer. He has studied Feng Shui, Yoga, Raindrop Therapy, Past life regression, Intuitive healing and Energy anatomy and has a Ph.D. in Religious Studies. Charles is a Channeller/Psychic/Spiritual Healer/Medical Intuitive who communicates with guides and angels to assist in helping others direct and empower themselves.
Kass Huff
12202 Pacific Avenue South Suite A, Tacoma, Washington 98444
Phone number (253) 537-1638
Kass offers Readings, Communication with Loved Ones and Pets, Astrology Reports, Animal Communication, Healing Sessions, Hypnotherapy & Past Life Regressions, Business and Love Coach, Psychic Investigations, Paranormal Assistance and House Clearings.
Lori Vough McEwen
Clairvoyant Psychic Medium
124 Gunnell Rd, Winlock, Washington 98596
Phone number 360-324-2655
After reading my book, you might think that my life is anything but quiet, well it is. I live in a small rural community in Western Washington State. The greatest gift I've ever been given is the gift of clairvoyance. I've finally been shown my true life's path and am fortunate enough to be able to follow it.
Maureen Brennan Mercier
Spirit Guidance Reading
Everett, Washington
Phone number 845-706-4325
Maureen Brennan Mercier, Intuitive Communication, Spiritual Healing, Psychic Reiki Master, gives intuitve Readings and intuitive healings in Seattle. Maureen has years of experience helping people bring spiritual awareness into their daily lives.
Intuitive Castle Shellee Hale
227 Bellevue Way NE #80, Bellevue, WA 98004
Phone number 425-450-9000
Founder of Psychic Crime Fighter, Certified and Authenticated by Dr. Melvin Morse and The Institute for the Scientific Study of Consciousness, Shay Parker's Best American Psychics, Best American Healers and Global Psychic Solutions and previously by the PAIC – Professional Association of Intuitive Consultants.
Redemption Supernatural Services
Bothell, WA 98104
Phone number 425-354-8076
Redemption Supernatural Services. Member of Paranormal Societies dedicated to the purpose of eliminating hostile supernatural forces, ghosts and demons. Based in Seattle-area willing to travel. Call in case of emergency.
Rev. Marilyn L. Redmond, BA, CHT, IBRT
2914 108th Ave. E., Edgewood, WA 98372
Phone number 253-845-4907
Medium psychic intuitive with six angles and numerous guides talk to loved ones passed over, find your past lives, ask your questions. Channels Ascended Masters from the other side including John, the Divine.
Serena LaSol
3814 E 9th Ave Spokane WA 99202
Phone number 509-389-0927
Energy Stone Healing, Spiritual Healing, Aromatherapy, Sound & Color Healing, Quantum Touch, Crystaline Reiki, and Intuitive counseling. Spiritual medium, meditation classes, workshops, channeler, spirit guide, counseling, psychic readings and fairy parties.
Spirit Quest Academy
PO Box 75441. Seattle, WA 98175
Phone number 206-789-4937
Empower your Life through Healing. Rev Dr Michael Kaminski, DD, Ordained Universal Minister, Doctor of Divinity-Metaphysician, Clairvoyant Healing Master, Crystal Reiki Master, founder of Spirit Quest Academy. 18 years assisting clients.
Oregon
Body Insights
2613 SE Laurel St, Milwaukie, OR 97267
Phone number (503) 869-8594
Clarity. Purpose. Drive. Skilled in Mental and Emotional Mastery along with Internal Martial Arts/energy practices that get into the grit of how energy really works and the sacred art of manifestation, psychic readings to get you where you want to go.
Critter Connections
PO Box 482, Malin, Oregon 97632
Phone number (530) 640-0686
Animal Communicator Heidi Wright is an internationally renown Animal Communicator and Author who works with all species of animals ranging from dogs to ducks, horses to hawks, and guinea pigs to geese!
If the Broom Fits
8845 SW Commercial St., Tigard, OR 97225
Phone number (971) 777-1636
Debbie on-site practitioner of the Craft for over 30 years joins Marjorie, our Master Reiki Practitioner, Mary Ann who reads your personal information through, Intuitive Touch and Debbie also offers readings of Oracle and Runes along with ear candling and cupping healings.
Jewels Edwards
12550 SE 93rd #250, Clackamas, OR 97015
Phone number (503) 381-8181
Jewels Edwards uses her intuitive gifts as a psychic medium and tarot card reader to provide clarity, healing, and practical guidance.
Lisa Long
P.O. Box 1027, Ashland, Oregon 97520
Phone number (541) 488-7681
Lisa Long, Master Consciousness Coach for Awakening Masters and Teacher 'The Einstein of the Collective Unconscious'. Screenwriter, SAG-AFTRA, Leading Edge Clairvoyant Coach for Spiritual Media & Film. Psychic counselor for over 20 years with over 50,000 readings + World Psychics
Nature's Keeper
4137 Thompson Creek Road, Applegate, OR 97530
Phone number (425) 890-2732
Animal Communicator, Energy Healer, Pet care, Nature's Keeper, Shawna Fischer
Noelani Rodriguez
4110 SE Hawthorne Blvd #742, Portland, OR 97214
Phone number 503-867-8439
Noelani Rodriguez does psychic readings by phone, psychic readings by email and live readings to great reviews for people around the world. She has been featured on Luscious Life, Para-X and Women's Radio programs.
Sara Wiseman LLC
4742 Liberty S #333 Salem, OR 97302
Phone number (503) 391-6007
Sara Wiseman is an award-winning author and visionary teacher in the field of intuitive development and spiritual awakening.
Truly Psychic
9110 SW 91ST Ave., Portland OR
Phone number (503) 298-6722
Annalena, lifelong clairvoyant,Tarots Scholar, Certified Hypnotherapist, Medical Intuitive, Psychic Counselor in Portland Oregon
Wholeself Wellness
P.O. Box 672 Bend, OR 97709
Phone number (503) 816-0556
Consciousness coaching and leadership development for organizations and individuals who experience unwanted or unexpected change, to help them see and leverage change as opportunities and embrace true leadership. Author Gifts From Garrett A Story of Love and Awakening.
William Pacholski
526 Northwest 21st Avenue, Portland, Oregon 97209
Phone number (503) 893-4315
I am a professional, trained Clairvoyant and specialize in giving Psychic Readings and Energy Healings over the phone, via webcam and in-person. I specialize in readings and healings for men and artists/performers.
FREE: Ad Your Business
Use the Leave A Reply form below to add your business to the Alternative Resources Directory.
Use the following format:
Name:
Business name:
Physical address:
City, State, Zip:
Phone:
Web site:
Email:
Category:
Thank you,
Alternative Resources Directory
Friends and supporters can post here.
[PC-Popup id=6]