Vegan Vegetarian Recipes
Vegan Vegetarian Recipes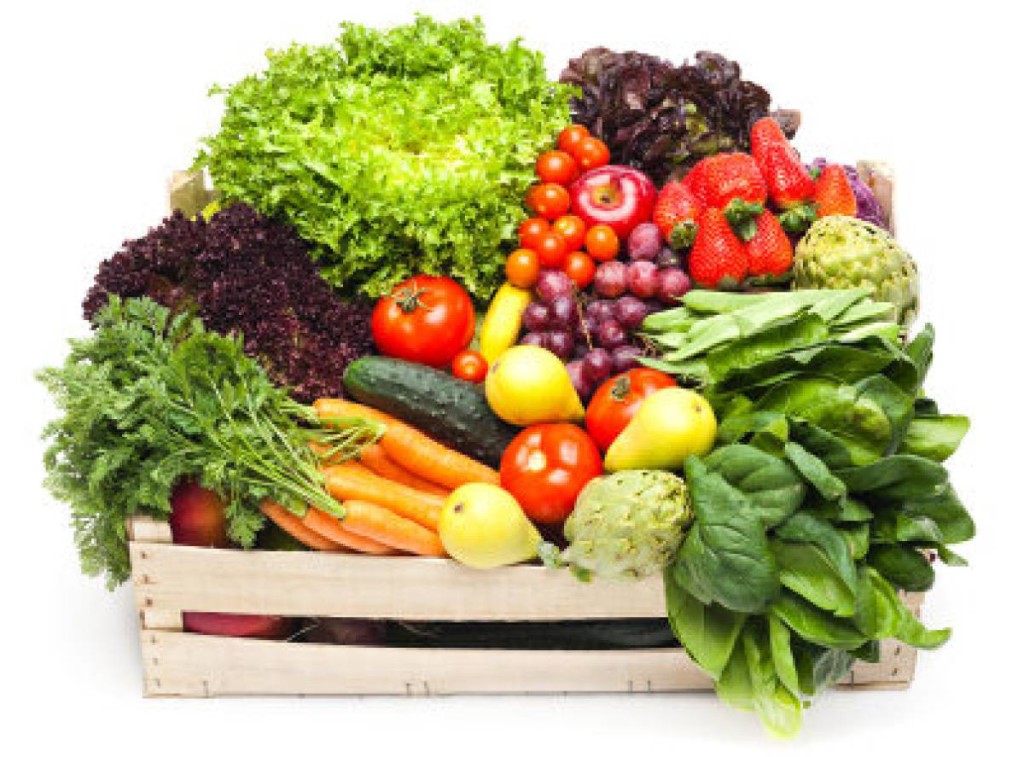 One of the growing trends in the Pacific Northwest is the increasing number of vegetarians embracing a vegetarian or vegan lifestyle. This creates an awesome opportunity for entrepreneurs and food-related establishments to cater to a new market that is willing to pay a little more for the high quality herbivore menu items. See: Vegetarian Restaurants
But what happens at home, stays at home. What then? Do you have to enroll in a vegetarian school of cooking to find a way to create meatless alternatives to meals that routinely associated with carnivorous diets?
The answer is unequivocally, "No." It is not difficult to round up wonderful vegan and/or vegetarian recipes to satisfy the taste buds of any former carnivore.
For example, here are a few of our favorite vegetarian recipes for
Vegetarian Chili Recipe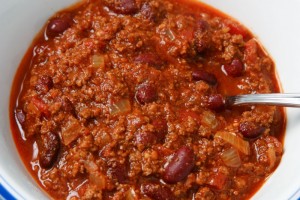 1 tablespoon olive oil
1/2 medium onion, chopped
2 bay leaves
1 teaspoon ground cumin
2 tablespoons dried oregano
1 tablespoon salt
2 stalks celery, chopped
2 green bell peppers, chopped
2 jalapeno peppers, chopped
3 cloves garlic, chopped
2 (4 ounce) cans chopped green chile peppers, drained
2 (12 ounce) packages vegetarian burger crumbles
3 (28 ounce) cans whole peeled tomatoes, crushed
1/4 cup chili powder
1 tablespoon ground black pepper
1 (15 ounce) can kidney beans, drained
1 (15 ounce) can garbanzo beans, drained
1 (15 ounce) can black beans
1 (15 ounce) can whole kernel corn
Heat the olive oil in a large pot over medium heat. Stir in the onion, and season with bay leaves, cumin, oregano, and salt. Cook and stir until onion is tender, then mix in the celery, green bell peppers, jalapeno peppers, garlic, and green chile peppers. When vegetables are heated through, mix in the vegetarian burger crumbles. Reduce heat to low, cover pot, and simmer 5 minutes.
Mix the tomatoes into the pot. Season chili with chili powder and pepper. Stir in the kidney beans, garbanzo beans, and black beans. Bring to a boil, reduce heat to low, and simmer 45 minutes. Stir in the corn, and continue cooking 5 minutes before serving.
Vegetarian Meatball Recipe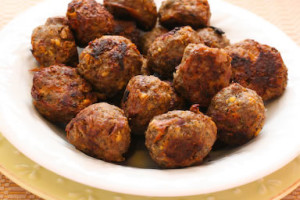 1/2 cup white onion, minced
3 cloves garlic, minced
1 flax egg
8 ounces tempeh* (or sub 1 heaping cup rinsed and drained chickpeas for similar result)
1/3 cup vegan parmesan cheese
2 tsp Italian seasonings (or 1/2 tsp each dried basil and oregano)
1/4 cup fresh parsley (optional)
1/2 cup vegan bread crumbs (gluten free for GF eaters | or sub almond meal)
2 Tbsp your favorite marinara or tomato sauce
Olive Oil for sautéing + Salt and Pepper to taste
Exterior finish
1/3 cup bread crumbs
1/3 cup vegan parmesan cheese
Preheat oven to 375 degrees and prepare flax egg in a small dish.
In a large, deep skillet, sautee onion and garlic in 1/2 Tbsp olive oil over medium heat until soft and translucent – about 3 minutes. Set aside.
Add tempeh to food processor and pulse to break down. Then add sautéd garlic and onion remaining ingredients (except olive oil) and mix, scraping down sides as needed. You want it to form into a moldable "dough."
Taste and adjust seasonings as needed. The tempeh will come across as a little bitter, but once coated, baked and served with marinara it's not nearly as apparent.
NOTE: Depending on how salty your vegan parmesan cheese is, you may need to add a little salt and pepper at this point. However, I didn't find it necessary.
Scoop out 1 Tbsp amounts of dough and roll into balls. At this time, heat the same skillet you used earlier to medium heat.
Mix remaining bread crumbs and parmesan cheese together in a shallow dish. Add tempeh balls one or two at a time and roll to coat.
Add enough olive oil to form a thin layer on the bottom of your hot skillet, then add your coated tempeh balls in two batches, as to not crowd the pan. Brown for about 5 minutes total, shaking the pan to roll them around to brown all sides.
Add browned meatballs to a baking sheet and add to the oven to bake for about 15 minutes, or longer if desired for a crispier result.
At this time, prep any pasta your want to serve with your meatballs, as well as your favorite marinara sauce (I love this pizza sauce).
Once meatballs are deep golden brown and fairly firm to the touch, remove from oven.
To serve, top cooked pasta with meatballs and pour over marinara sauce. Top with another sprinkle of vegan parmesan cheese and fresh parsley. Leftovers will keep in the fridge for up to a few days, though best when fresh.
Vegetarian Quiche Recipe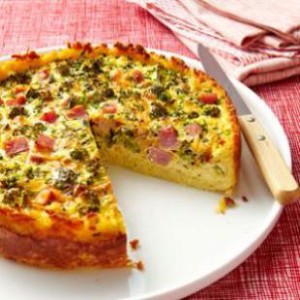 1 teaspoon salt
1/2 cup chopped zucchini
1 (9 inch) unbaked pastry shell
2 tablespoons butter
1 1/2 cups chopped onion
1 green bell pepper, chopped
1 cup chopped tomatoes
1/2 cup sliced fresh mushrooms
1 clove garlic, minced
1/4 teaspoon curry powder
1/2 teaspoon salt
1/4 teaspoon ground black pepper
1 pinch ground cinnamon
5 eggs
1/4 cup milk
1/4 cup grated Parmesan cheese
1/4 cup shredded Cheddar cheese
Sprinkle 1 teaspoon salt over zucchini and let sit for 10 minutes to drain water.
Preheat oven to 450 degrees F (235 degrees C). Line pastry shell with a double thickness of heavy-duty aluminum foil.
Bake pastry shell in preheated oven for 5 minutes; remove foil and bake until shell is lightly browned, about 5 minutes longer.
Reduce oven heat to 350 degrees F (175 degrees C).
Melt butter in a large skillet over medium heat; cook and stir onion, green pepper, tomatoes, mushrooms, garlic, and zucchini until just tender, about 5 minutes. Stir in curry powder, 1/2 teaspoon salt, pepper, and cinnamon; spoon vegetable mixture into crust.
Beat eggs in a bowl; stir in milk, Parmesan cheese, and Cheddar cheese. Carefully pour egg mixture over vegetables.
Bake in preheated oven until a knife inserted near the center comes out clean, 40 to 45 minutes. Let stand 5 minutes before cutting.
Vegetarian Soup Recipe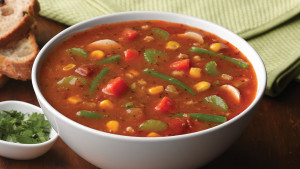 3 tablespoons extra virgin olive oil
1 medium yellow or white onion, chopped
3 small or 2 medium/large carrots, peeled and chopped
2 celery stalks, chopped
1 to 2 cups chopped seasonal vegetables, like zucchini, yellow squash, bell pepper, sweet potatoes or butternut squash
6 garlic cloves, pressed or minced
½ teaspoon dried thyme
1 can (28 ounce) diced tomatoes, drained
Scant 1 cup quinoa, rinsed well in a fine mesh colander
4 cups vegetable broth
2 cups water
1 teaspoon salt, more to taste
2 bay leaves
Pinch red pepper flakes
Freshly ground black pepper
1 can (15 ounces) great northern beans or chickpeas, rinsed and drained
1 cup or more chopped fresh kale or collard greens, tough ribs removed
1 teaspoon lemon juice
Optional garnish: freshly grated Parmesan cheese
Warm the olive oil in a large Dutch oven or pot over medium heat. Once the oil is shimmering, add the chopped onion, carrot, celery, seasonal vegetables and a pinch of salt. Cook, stirring often, until the onion has softened and is turning translucent, about 6 to 8 minutes.
Add the garlic and thyme. Cook until fragrant while stirring frequently, about 1 minute. Pour in the drained diced tomatoes and cook for a few more minutes, stirring often.
Pour in the quinoa, broth and the water. Add 1 teaspoon salt, 2 bay leaves and a pinch of red pepper flakes. Season generously with freshly ground black pepper. Raise heat and bring the mixture to a boil, then partially cover the pot and reduce heat to maintain a gentle simmer.
Cook for 25 minutes, then remove the lid and add the beans and the chopped greens. Continue simmering for 5 minutes or more, until the greens have softened to your liking.
Remove the pot from heat, then remove the bay leaves. Stir in 1 teaspoon lemon juice. Taste and season with more salt and pepper until the flavors really sing. (You might need up to ½ teaspoon more salt, depending on your vegetable broth and your personal preferences.) Divide into bowls and top with grated Parmesan if you'd like.
Vegetarian Salmon Recipe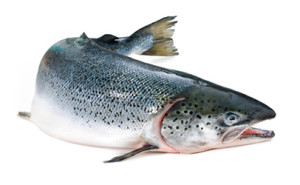 2-2 1/3 cup grated carrot
3-4 chopped tomatoes
finely grated peel and juice from ½ lemon
1 tsp white vinegar
1 pinch of sea salt
2 tbsp vegetable oil
3 tbsp chopped fresh dill
12oz soy or other vegan "meat"
Exterior finish
4 tbsp vegan mayonnaise
grated horseradish
4 tbsp black Cavi-art
Mix the grated carrot, chopped tomatoes, soy "meat", lemon peel and juice, white vinegar, fresh dill, salt and oil.
Put the mixture in a baking dish and bake at 300 F, until carrot softens, about 25min.
Form patties and put a spoonful of black Cavi-art and a slice of lemon on top.
Mix some grated horseradish with the mayonnaise.
Serve the patties with the mayo mixture and boiled or baked potatoes.
Garnish with a lemon slice and a sprig of dill.
Vegetarian Pasta Salad Recipe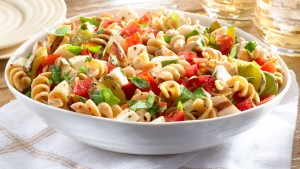 8 ounces uncooked tricolor spiral pasta
3 small tomatoes, chopped
1 cup thinly sliced green onions
1 cup each chopped celery, sweet red pepper, zucchini and carrots
3 tablespoons balsamic vinegar
2 tablespoons minced fresh basil or 2 teaspoons dried basil
2 tablespoons olive oil
1 tablespoon sugar
1 tablespoon minced fresh oregano or 1 teaspoon dried oregano
2 garlic cloves, minced
1 teaspoon salt
1/8 teaspoon pepper
1/2 cup grated Parmesan cheese
Cook pasta according to package directions. Meanwhile, in a large bowl, combine the vegetables, vinegar, basil, oil, sugar, oregano, garlic, salt and pepper.
Drain pasta and rinse in cold water; stir into vegetable mixture. Add Parmesan cheese and toss to coat. Cover and refrigerate for at least 2 hours before serving. Yield: 10 servings.
Vegetarian Pork Chop Recipe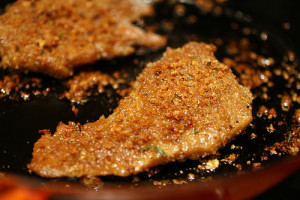 1 pkg firm or extra firm tofu, cut into 12 slices (or more)
Brine
2 cups cold water
1 tsp garlic powder
2 tsp onion powder
2 tsp smoked or seasoned salt
1 tbsp light soy sauce
1 tbsp sugar
Breading
1 3/4 cup panko bread crumbs
1/2 tsp garlic powder
2 tsp onion powder
1 tsp sage
1 tsp paprika
1 tsp thyme
1/2 tsp salt
1/2 tsp ground fennel
1/4 tsp nutmeg
freshly ground pepper
1 tbsp all purpose flour
2 tbsp oil
Dipping Sauce
1 cup plain soy milk
1 tsp yellow mustard
1/2 tsp lemon juice
few splashes of hot sauce
Mix together all the ingredients for the brine. Pour into a freezer bag. Add sliced tofu and let it brine for 2 hours in the fridge.
When tofu is done brining, remove it from the fridge. Preheat oven to 400 degrees. Line a baking sheet with parchment paper.
Mix together all of the ingredients for the breading in a large bowl. Place about 1/3 of it in another large bowl.
Mix together all of the ingredients for the dipping liquid.
Dip a slice of the tofu in the dipping liquid, then toss it in the bowl with the smaller amount of breading to coat. Place on the prepared baking sheet. Repeat with remaining tofu. Add a few more panko crumbs in if needed. Use one hand for dipping (wet), the other for breading (dry). That way you won't muck up your breading and get it all over your fingers.
Carefully re-dip the breaded slices in the dipping liquid then toss in the remaining breading to coat.
Bake for 20 mins, flipping the tofu after 10 mins.
Vegetarian Pound Cake Recipe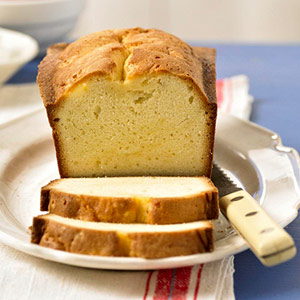 1.5 cups whole wheat flour/atta, 180 grams
1 tsp baking powder
½ tsp baking soda
1 tsp vanilla powder or extract or scraped vanilla bean
200 grams unsalted butter, melted or about ½ cup melted butter
200 grams sweetened condensed milk or ¾ cup
½ cup warm milk, 125 ml
¼ cup sugar, 40 grams
first grease a loaf pan measuring 8.5 x 4.5 x 2.5 with oil or butter. you can also use a round pan of 7 or 7.5 inches diameter. preheat the oven at 180 degrees celsius 15 minutes before you start baking. use 170 degrees celsius as the preheat temperature, for baking in the convection mode of the microwave oven.
sieve whole wheat flour, baking powder and baking soda in a plate or tray. keep aside.
melt butter in a pan.
once the butter has melted, keep the pan down. to the melted butter, add sweetened condensed milk.
with a wired whisk, stir and mix very well. the whole mixture should be homogeneous and even.
then add warm milk. you can warm the milk in a small pan on the stove top or in the microwave.
next add sugar and begin to stir with a wired whisk, till the sugar is dissolved completely.
add vanilla extract or powder or scraped vanilla bean.
add all sieved dry ingredients to the wet ingredients.
with a wired whisk mix lightly and with light hands. don't use pressure from your hands while mixing. mix evenly. if there are tiny small lumps in the batter, then its fine.
pour the cake batter in the prepared pan.
bake in a preheated oven at 180 degrees celsius till you see cracks from top and a golden color. if top starts to get browned, then cover with foil or butter paper and continue to bake. it took me 50 minutes to bake this cake at 180 degrees celsius. depending on the temperature conditions in your oven, it make take less or more time. the final check is a golden crust and a tooth pick or wooden skewer coming out clean. for baking in the convection mode of a microwave oven, use the temperature of 170 degrees celsius. again the baking time will vary in the convection mode of your microwave oven.
when the pound cake becomes slightly hot or warm, remove it from the pan and cool on a wired rack. here's a pic of the bottom of the cake. a lovely crumb.
once cooled, serve the pound cake with milk or tea or coffee. you can also keep the cake covered in a box and refrigerate. this eggless pound cake stays good for 4 to 5 days in the fridge. the recipe makes one loaf.
Vegetarian Shrimp Scampi Recipe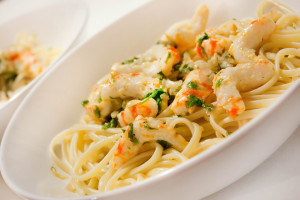 1 package whole wheat spaghetti or angel hair pasta
3 tablespoons olive oil
1 cup vegan shrimp, defrosted (we recommend May Wah shrimp balls cut in half)
1 teaspoon margarine
1 tablespoon chopped fresh parsley, plus a little extra for garnish
3 tablespoons lemon juice
1/4 teaspoon crushed sea salt
2 green onions, chopped
3 cloves garlic, minced
1 tablespoon dry white wine
Vegan Parmesan, nutritional yeast, and freshly ground black peppercorns to sprinkle over the top
Make the pasta per the instructions on the package.
In your cast-iron skillet or deepest frying pan, heat the olive oil over medium heat.
Add the vegan shrimp and turn it with a spatula until your vegan shrimp is completely coated.
Once your vegan shrimp reaches the desired tenderness, add the margarine, parsley, lemon juice, salt, green onions, garlic, and white wine.
Mix with the vegan shrimp until the green onions are caramelized and the margarine melts.
Serve the vegan shrimp and sauce over your pasta.
Sprinkle vegan Parmesan and nutritional yeast over the top, followed by chopped parsley and ground black pepper
Vegetarian Gravy Recipe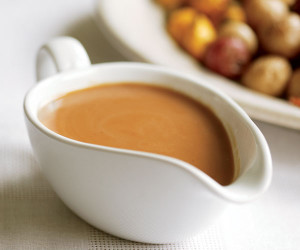 3 tablespoons margarine
2 tablespoons of finely chopped onions
2 minced garlic cloves
3 tablespoons flour
2 tablespoons soy sauce
1 cup water
salt and pepper
Put margarine in a pot and saute the onions and garlic over med-high heat.
Reduce heat back to medium after onions and garlic have become golden brown.
Make a roux by gradually adding the flour, while continuously stirring to avoid lumps.
Still stirring, add soy sauce and water to the mixture.
Add salt and pepper to taste.
Once the gravy has reached desired thickness, turn off the stove and you are done!
See Also: Vegetarian Restaurants in the Pacific Northwest
Share Your Favorite Vegetarian Recipes Below