Iridology & Sclerology
Iridology & Sclerology
Your Health Is Revealed Through Your Eyes
Specializing in Sclerology for current healing progress and detailed body analysis.
The Iris is an extension of the brain, recording inherited patterns relating to potential weaknesses.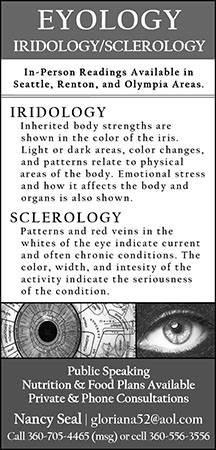 Nancy Seals
Offers healing since 1977
Email: gloriana52@aol.com
Member IIPA (International Iridology Practitioners Association), Puget Sound Wellness and the South Sound Healing Association
Contact Information
Iridology & Sclerology, Personal Analysis, Total Body Analysis
Seattle to Olympia, WA
Region: WA Puget Sound
Nancy Seals
2800 Limited Lane, Crowne Pointe Q16 – Olympia, WA 98502
Phone: 360-705-44-65 Cell: 360-556-3556
While Sclerology basics can be learned quickly, there is a wealth of details available in its further study to assist the healer. Its applications in health evaluation embrace virtually every healing modality.