5 Simple Steps to Personal Networking
5 Simple Steps to Personal Networking
Life is more fun and productive, if you are willing to spread your wings and particpate in a bit of personal networking. Being willing to put yourself out there will pay off in dividends of greater success and happiness.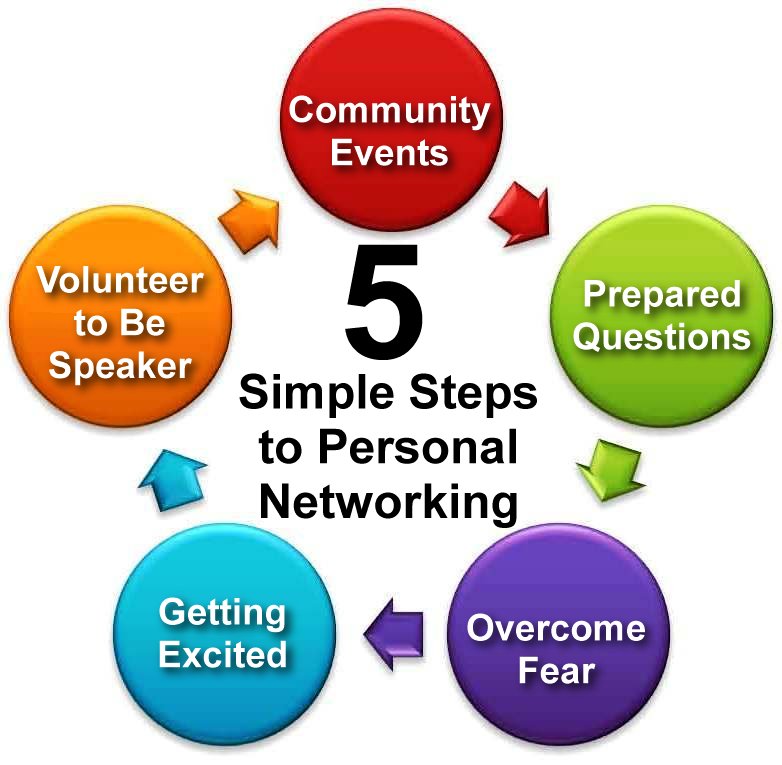 Here are 5 simple steps to enhance your personal networking:
1. Community Events
If you like to help others out, why not join in on community events in your area? This can be a great way to practice meeting people, and you can do good at the same time. There are plenty of opportunities throughout the year to get involved with an event within your community. Simply reach out to your municipality or go online to see what is available.
If you have a difficult time finding the right kind of event to get involved with, try contacting foundations that support events in your area. You can also reach out to religious institutions as they often sponsor an event to help people out.
Not all community events are about helping people. Sometimes, it can be events such as going on hikes or visiting other areas of interest, like museums. These can be another fun way to meet people.
2. Prepared Questions
Whatever means you use to meet people, it's a good idea to come prepared before attending the meeting.
First, try to determine the demographics of the group. What people is the group catering to? Is it men, women, or both? Is it a certain age group? And so on.
When you know who is going to attend, you can structure questions to ask of them. Questions are a great way to get to know people and can give you more insight into what they are about.
Try not to go overboard with questioning as this may seem like you are prying.
Keep the questions casual and ask as if you are asking a bunch of friends that you already know. Let them answer and use those answers as a basis for further inquiry. It?s wise to choose questions that are not too personal. You should be prepared to answer questions others have for you.
3. Overcome Fear
Fear of meeting new people stems from not knowing what to say or saying the wrong things. If you tend to be shy in your meet ups, let others start the conversations. Smile often, as you want to be approachable. If you can add something to a conversation you overhear, simply open with, "if you don't mind me saying, I have some experience with this." Or something similar. Don't be overbearing when you're the new person. Back off a bit, and let people take in what you say. If they accept your premise, they will ask questions and engage with you.
4. Getting Excited
There is nothing worse than having someone who is a stick-in-the-mud at a meeting.
These people seem like it's the last place they want to be. Maybe someone forced them to attend or some similar reason why they just don't want to contribute. Don't be that person. Even if you are faced with a forced situation, make the best of it and be excited to be there. You never know who will be attending and you don't want to give a bad impression.
If you are attending a meeting you don't find interesting, try to find ways to get interested. You'd be surprised what you will learn from other people.
You will also discover information you never would have had you not attended. You don't have to take a long-term interest in the group, but people within that group may belong to other groups you are interested in.
5. Volunteer to Be a Speaker
When you find a group that you want to join, contact the organizer and ask if he or she needs any speakers. Make sure you have some familiarity with the subject unless you plan on revealing that you are new to the field and are learning.
This can be an interesting angle for the group as well. Either way, you will need to make some preparations including learning about who is going to attend and preparing material accordingly. Be open minded when you speak and be prepared to answer questions. You may be able to pick the brains of some of the members to gauge what kinds of questions may be asked of you.