Friends of Alternative Resources Directory
Friends of Alternative Resources Directory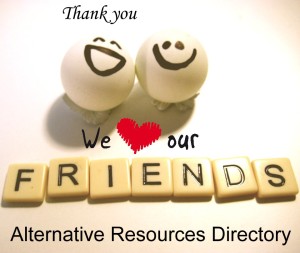 The focus of the Alternative Resources Directory is the geographic are of the Pacific Northwest, primarily Washington and Oregon states, so far.
Even so, we have many friends and supporters outside the area that we currently service; we offer our friends area to show our appreciation and gratitude for their continued support.
Thanks to our friends…
Arizona
Sedona Mago Retreat
3500 E Bill Gray Rd, Sedona, AZ 86336
(928) 204-3391
Retreat Center offers 163 acres of beautifully landscaped land honoring Mother Earth's treasures working with the healing energy of Sedona. Relax and rejuvenate body, mind, and spirit.
California
A Quantum Heart Energy Medicine
P.O. Box 583, Fairfax, CA 94978
(415) 209-8826

ENERGY MEDICINE: TREATMENTS, READINGS AND RETREATS
Marijuana News
Los Angeles, California, 90003
(888) 381-6635

Marijuana News Online
Colorado
LightShade
503 Havana St, Aurora, CO
720-899-3030

Colorado's Premier Dispensary
Florida
Kono Naturals
478 East Altamonte Drive, #108-151, Altamonte Springs, FL 32701
844-566-6743


CBD product provider and producer
Iowa
Free tarot readings, haiku horoscopes
Tell My Tarot
2222 Grand Ave. #103, Des Moines, IA 50312
(515) 221-7173

Charmaine Frapp's tarot divination, weekly and monthly horoscopes
Minnesota
Global Weed Market
4 Shady Oak Rd #18, Hopkins, MN 55343
(704) 659-6156

Mail Order Marijuana Online
Montana
Greener Pastures
7580 Pioneer Way Bozeman, MT 59718
(406) 599-0923

Natural medicine, medical marijuana
Ohio
THC Legal Group
30195 Chagrin Boulevard, Suite 300, Cleveland, Ohio 44124
800-613-1067

THC Legal Group Is Comprised Of Lawyers With Decades Of Experience In Intellectual Property Protection And Business Formation. On The Most Fundamental Level, Our Goal Is To Provide Excellence In Legal Representation For Business Owners In The Cannabis Market.
Texas
Hemp Doctors USA
4707 Rosedale Ave Austin, TX 78756
(512) 538-4164

We offer premium quality CBD Products, hemp oil with CBD, CBD concentrate and more at
great prices.
Spain
Atomik Seeds
Cannabis seedbank
P.O.Box 48, Spain 20140
Phone: 688827324

Cannabis seedbank
UK
NOTTINGHAM REIKI
Seichem Reiki Master & Clairyovant
07989 424340

Reiki Session, Psychic Reading, Body Code, Emotion Code, EFT and guidance via Skype
FREE: Ad Your Business
Use the Leave A Reply form below to add your business to the Alternative Resources Directory.
Use the following format:
Name:
Business name:
Physical address:
City, State, Zip:
Phone:
Web site:
Email:
Category:
Thank you,
Alternative Resources Directory